There are 3 main steps in getting started with WizyEMM:
Manage your applications

Create your profile

Enroll your devices
We give you a quick walkthrough of these steps below. If you would like to dig deeper, please check out our How To section of our Help Center.
STEP 1: MANAGE YOUR APPLICATIONS
Once you've logged on to the console, one of the first steps is to define which applications you want to manage for your organization. In the Applications Management section you can manage all applications authorized for installation on your Android Fleet of Devices. You can manage three different types of applications:
Public Apps = Applications available on the public Google Play Store

Private Apps = Your own Android applications for your business

Web Apps = Turn a web page into an Android app
1. Public Applications
Go to the embedded Public Play Store in the menu "Public Apps" if you want to add a public application. Select the app you want to approve. For example Slack. Select and click on it to add in your Managed App.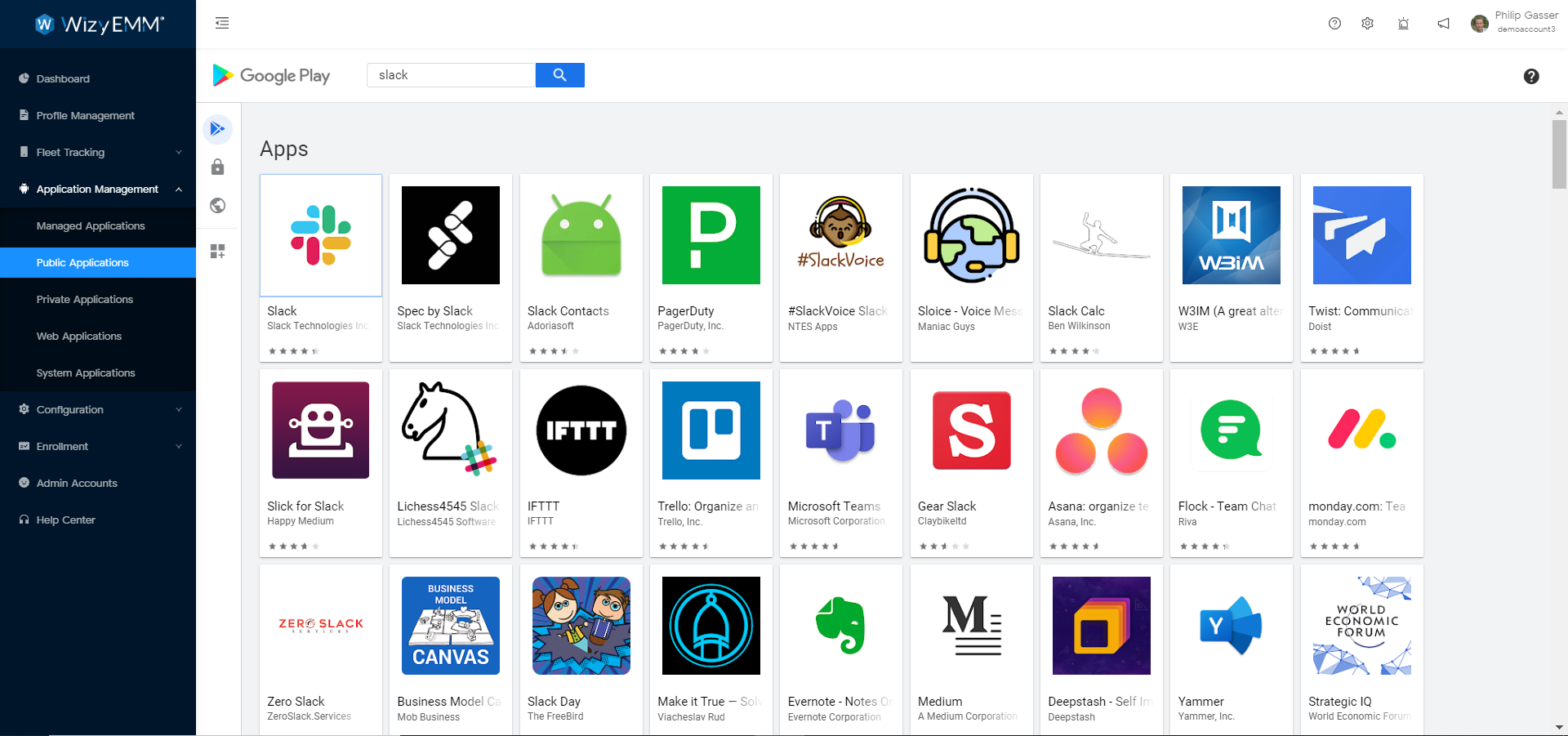 2. Private Applications
You can also add a private application. In the menu "Private Apps" specify your app name in the Title field, and upload your APK file.
Be careful : private applications must have a unique package name, when uploaded to your managed Google Play store.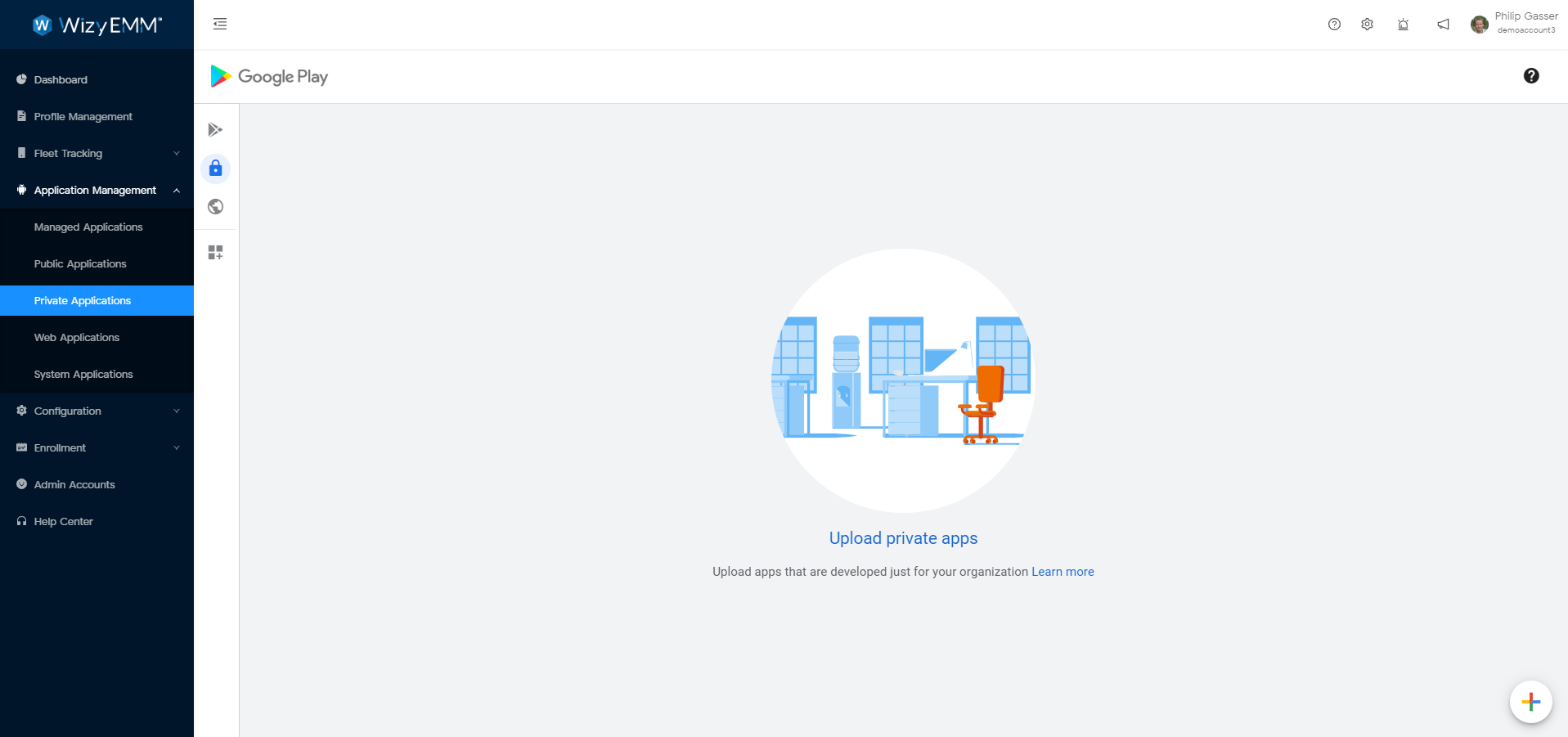 3. Web applications
You can add web applications. A "Web App" turns a web page into an Android app, making it easier to find and simpler to use on mobile devices.
To create a web app, click the plus button and specify a Title that is shown on the device, on the managed Play Store and on the launcher, a URL that the web apps opens to, a Display mode that defines how the web app is displayed on the device.
You can also set an icon for the web app to help users identify it.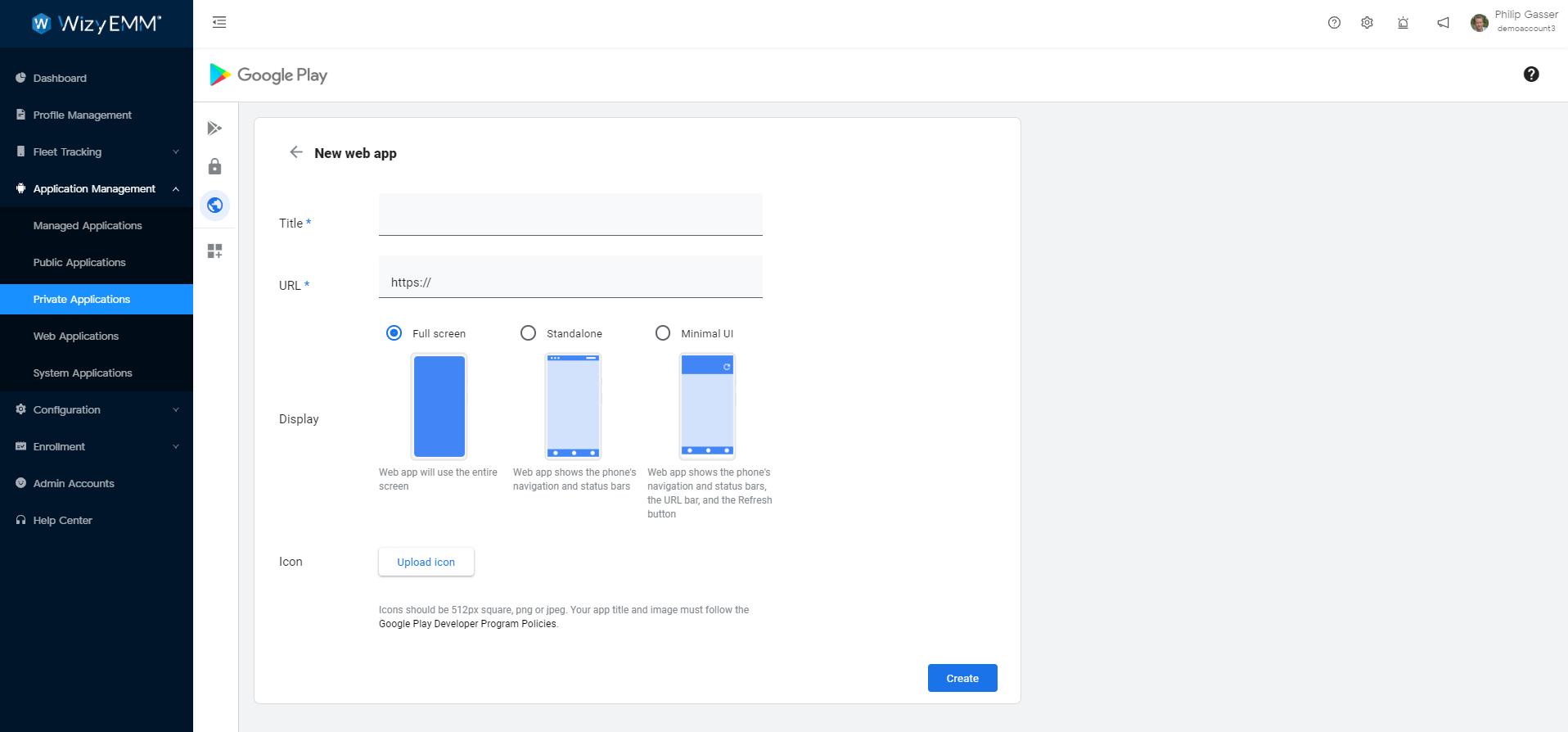 You can see all your managed applications - public, private and web applications in the Managed Applications menu.
STEP 2: CREATE A PROFILE
Profiles are used to manage a set of policies and applications to deploy on devices. Usually companies create a specific profile per business use case.
1. Create a profile
Go to Profile Management > Create and specify a unique Profile Name

2. Configure Policies
Configure the device policies, in the Policies tab. Policies section includes a list of 80+ policies you can configure on the devices using this profile. You can use WizyEMM default policies settings or select policies restrictions according to your needs. Move the slider to the right to enforce a policy.



3. Push and configure applications
The Applications section of your Profile offers a complete set of options to determine which applications are installed unto devices, how they are installed, and with which configurations.
WizyEMM has 4 modes which you can select:
The restricted Play Store means that the public Play Store is not accessible. Only the applications selected in the Profile will be available.
The unrestricted Play Store means that the public Play Store is fully accessible. Applications can then be blacklisted in the Profile.
The single-app kiosk means your device is locked down into a single application which is inescapable
The multi-app kiosk means your device is locked down into a few applications
For each mode, choose and configure the applications for your profile.
For mode details on how to configure your kiosk, please read our Help Center page on how to setup a kiosk mode.
4. Set up configurations
In the Configuration tab, enable device geolocation, manage system updates policy, enforce a password with the strength of your choice and select the WIFI you want to apply automatically to all devices using this Profile.
STEP 3: ENROLL THE DEVICE
WizyEMM offers 4 enrollment methods:
Zero Touch

QR Code

NFC

EMM Token
Selecting the best enrollment method depends on your use case.
Check out our Help Center article on Which is the best enrollment method?
For a quick enrollment method, use the QR Code provided in the Enrollment tab of the profile you have just created.
To enroll a device in a fully-managed mode:
Factory reset your device
On the Android factory-reset home screen, tap 6 times anytime on the screen. If that does not work, set up your device as a new device, and when prompted to input your email address, input this code: afw#setup. This will launch the Android Enterprise setup.
Follow the instructions on screen and scan the QR code provided in the profile
Have a look at our Help Center article on Enrolling a Device with QR Code for more information.
Check out our video of a Device Owner enrollment below: