Upload your private business apps in your managed Google Play Store without leaving the WizyEMM console.
>> To upload private apps into your managed Play Store:
From your WizyEMM dashboard:
Go to the Private Applications tab, under Application Management
On the bottom right corner, click on the plus sign
Specify your app name in the Title field, and upload your APK file
Click on the button Create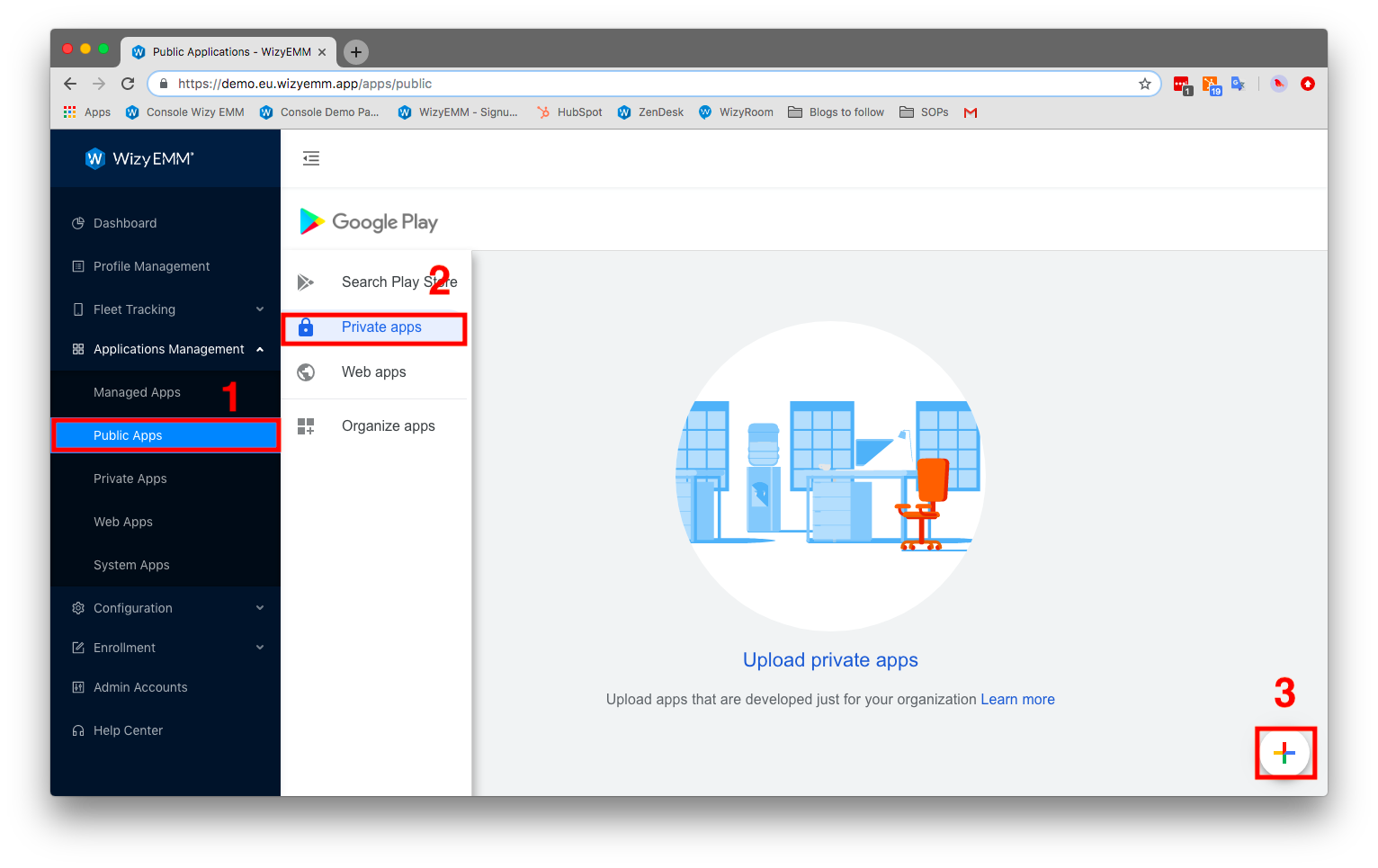 Specify your app name in the Title field, and upload your APK file.

Please be aware that it might take up to 5 minutes before your private app is available.
Once your application has been uploaded to your managed Google Play store, you still need to select it for management. To do so, simply click on your application, then click on the Select button. 
Once your private application is selected, it will appear in your Managed Applications tab.
The next step is to select and configure which applications to use for your different profiles, check out this article.
Notes:
Uploading your private app in your managed Play Store has the huge advantage of benefiting from the Google Play Protect automatic security scanning. 
You can also host your private applications on your own servers, and distribute them through the Google Play store. Check this article and contact us for more information.
Private applications can be distributed to other organizations' managed Google Play store. A private app can be distributed to up to 100 organizations. Check the how-to guide just below.
>> To distribute private apps to multiple organizations:
A private app can be distributed to up to 100 organizations. For example, if you maintain multiple environments (e.g. testing, staging, production) as separate organizations, you can distribute the same private app to each organization.
Step 1: Get Organization IDs
To make a private app available to additional organizations, you need each organization's ID:
Sign in to managed Google Play using your WizyEMM master Gmail account.
Click Admin Settings.
The Organization ID is listed in the Organization information box.
Step 2. Add Organization IDs to your app's target distribution list
In your WizyEMM console:
Select the private app you want to edit.
Click on Make advanced edits. This will forward you to your Google Play console.
Go to Store presence > Pricing & Distribution > User programs > Managed Google Play.
Check the Turn on advanced managed Google Play features box.
Check the Privately target this app to a list of organizations box.
Click Choose Organizations.
For each organization that you want to publish the app to, enter the Organization ID and a description (or name) and click Add. You can enter up to 100 organizations per app.
Click Done.
Click Submit update.
Step 3. Approve the app in your target distribution list
In the WizyEMM consoles of your target distribution list:
Go to the Public Applications tab.
Search for the private app in the search bar, by entering the package name of your private app. 
Your private app will appear, with a small lock indicating that it is only available to your organization.
Select and approve the private app.